CHERAI,COCHIN, KERALA,INDIA
WELCOME
Cherai Beach Resorts is exquisitely landscaped with lagoons and canals meandering in and around a number of cottages (heritage & modern) built around picturesque greenery overlooking the clean long beach at the front and serene backwaters behind.Sun rises at the backwater side of the resorts – first you see a wave of crimson at the eastern horizon. As and when it approaches Cherai, it thickens to molten gold and in minutes you see it merging with the ubiquitous skies and backwaters turning everything in and around it into a maze of crimson yellowish gold. The sun sets in front of the resorts in the Arabian Sea.Cherai Beach Resorts is located at the Gateway to Muziris, the heritage capital of Kerala. This tropical paradise enchants you with its charming exotica. Seductive beaches, serene backwaters, swaying coconut lagoons, lush green paddy fields, delicious cuisine etc are the uniqueness of this property. You will feel the uniqueness the moment you step in to our resorts.
Accommodation
The villas here are classified into Pool Villas, Fisherman Villas, Sunrise Villas, Doctors Premium Villas, Garden Villas, Doctor's Villas and Four bedded Villas.
Pool Villas
Fisherman Villas
Pool villas resemble the Fishermen villas situated along the bank of the backwaters. Preserving the charm with round master bed and an upstair balcony, overlooking the open lake, this villa is equipped with Jacuzzi and a Mini Pool - designed exclusively for Honeymooners.
Villas in this category are of typical Kerala style tribal houses. Every villa is unique. Built with natural products like coir, bamboo, roof thatched with palm leaves, mud plastered walls decorated with paintings and floor with terracotta tiles. The gentle breeze from the sea and the backwaters cools the room naturally. These Air conditioned independent cottages are ideal for Honeymooners.
Doctors Villas
Doctors Premium Villas
These are Spacious Lotus Pond facing A/c villas, easily accessible to the beach, with all modern facilities including Television, Minibar, Hot & Cold water etc.
These villas are very spacious modern Kerala homes in a perfect setting of village ambience with greenery. Doctors Premium Villas with two bedrooms and 2 attached bathrooms under one roof ideal for families are also available.
Sunrise Villas
Sunrise villas are exotic independent villas with a magnificent view of the backwaters. These villas with all modern facilities have a separate courtyard with gorgeous gardens, hammocks and sun bath facilities. Guest can experience the warmth of the rising sun from the Master Bedroom.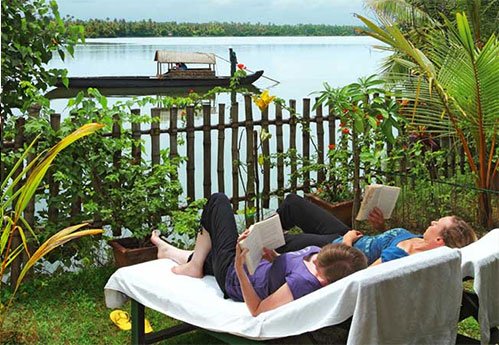 4 Bedded Villas
Garden Villas
These villas are heritage type non-A/C villas for families, have separate enclosed courtyards for private gathering and functions. They are ideally suited for groups andstudents.
These are Kerala villas surrounded by picturesque greenery with all modern facilities.
DINING
Oottupura: It is the multi-cuisine restaurant which serves a variety of delicacies to suit your taste. Coconut and fish abundantly available are staple ingredients in the delicacies served.

Kayaloram – It is an open air restaurant.

Kayaltheeram - Live BBQ centre. 

Tharavadu - Beer and Wine parlour.
There is a special kitchen for vegetarians and Jain food.
MEETING & CONFERENCES
OTHER FACILITIES
Rajadhani: The A/c conference hall has the panoramic view of Arabian Sea & coconut lagoons, with a capacity of 75 people in classroom style and is well furnished with all the modern facilities for conferencing.

Koothambalam: It is the open-air banquet hall with thatched roof has the view of Arabian Sea with a capacity of  300 people.
Health Club
Multi Gym
The Travel Desk
Hamocks and Swings
AYURVEDA
Cherai Beach Resorts approach wellness essentially through Ayurveda-the ancient knowledge of holistic wellness in the world. Ayurveda is the science dealing not only with treatment of some diseases but also the complete way of life. This system of science gives importance to the prevention of body ailments in addition to curing them. It is the most natural way to refresh you, eliminate all toxic imbalances from the body and regain resistance and good health.

You can find here Kerala Kalari Massage, Ayurvedic Rejuvenation Massage, Ayurvedic Relaxation Massage etc.